The Definitive Guide to Resume Length
For resumes, less is more. Here's my handy guide for writing a concise resume.
---
I just updated my resume. I'm proud to say I cut it down from 450 words to about 325 words, so it's now about 28% shorter.
When someone looks at your resume they are trying to quickly get an idea of who you are and what you can offer. Often hiring managers will simply skim resumes and separate them into "yes" and "no" piles. I know because I've done it, and I've witnessed others do it.
To have the best shot of landing an interview, keep your resume concise. It's meant to be a brief summary of your recent career accomplishments and skills, not a full account of your entire life's work.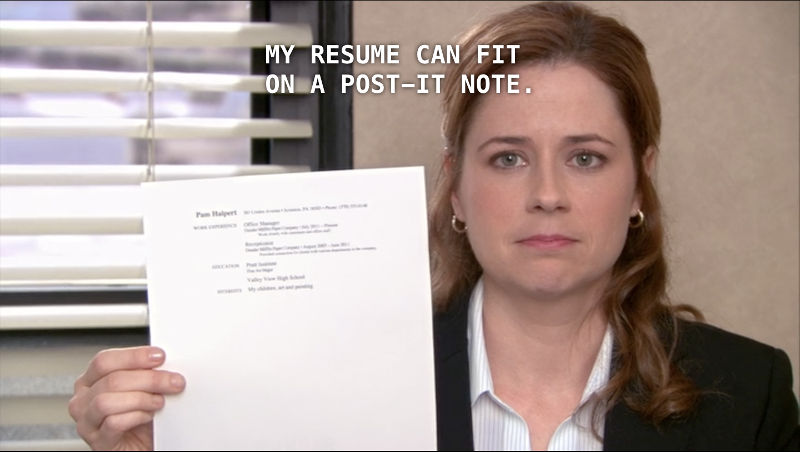 Ok, maybe not this concise. Pam's resume from NBC's The Office.
Guide to Resume Length
If you need more specific advice, here you go:
For printed or electronic file resumes, never break the one page rule. It's called the one page rule because it's not optional. It's a rule. Don't listen to what anyone else says—there is no reason for a multi-page resume. None. Ever.
Also, only use one of these 7 fonts (these are the only fonts widely installed on both Windows and Mac computers):


Arial
Tahoma
Trebuchet MS
Verdana
Georgia
Palatino
Times New Roman

For font sizes, don't go below:


10.5pt (14px) for the body
12pt (16px) for headers
18pt (24px) for your name at the top

For online resumes, keep it under 500 words at a minimum. 400 words is better. 300 words is probably best. Keep in mind that with an online resume you can always link to other pages for context.
---
You can chat with me on Twitter @cschidle, just don't try to convince me that a three page resume is ok.
---
This is an ad-free site. Please consider supporting my writing with one of the support buttons below.