Recent revelations about Yahoo leave no question that you should stop using their services.
---
Ready to act? Close your Yahoo account here.
A Rocky Few Months
In case you somehow missed it, Yahoo was in the news a number of times in recent months.
In July, Verizon agreed to buy the mismanaged remains of Yahoo's core internet business.
Then in August, there was speculation that 200 million Yahoo accounts were hacked, but the legitimacy of the hack was questioned and Yahoo didn't own up to it.
In September, Yahoo confirmed that information on at least 500 million accounts was actually stolen. Yikes.
In October, Reuters discovered that Yahoo willingly assisted U.S. intelligence agencies with custom software designed to search all of its customers' incoming emails.
Yahoo Mail has Always Sucked
Even if all of these privacy concerns don't bother you (in which case, I'd beg you to reconsider your priorities), there are still plenty of reasons not to use Yahoo.
Anecdote time. I had a Yahoo account. The only reason I had it was that someone invited me to play in a Yahoo fantasy football league. And it sucked. I've used Hotmail/Outlook, Gmail, and a few others, but Yahoo was by far the worst.
Yahoo Mail was buggy; it would sometimes give me weird log in and redirection errors. I'd get tons of spam, despite the fact that I gave the address out to literally no one. It had one of the clunkiest interfaces for mail. It had the most obnoxious and obtrusive ads of the free email providers I've seen by far. And upon logout, I'd be subjected to the rest of the Yahoo media ecosystem, which is definitely one of the worst bullshit clickbait factories in existence.
Yahoo's services are well past their '90s prime. Now you can find better options in every category in which they operate.
Webmail Recommendation: Zoho Mail
Zoho Mail is awesome. It's free, there are no ads, it has a smooth & intuitive interface, and Zoho has a great privacy track record.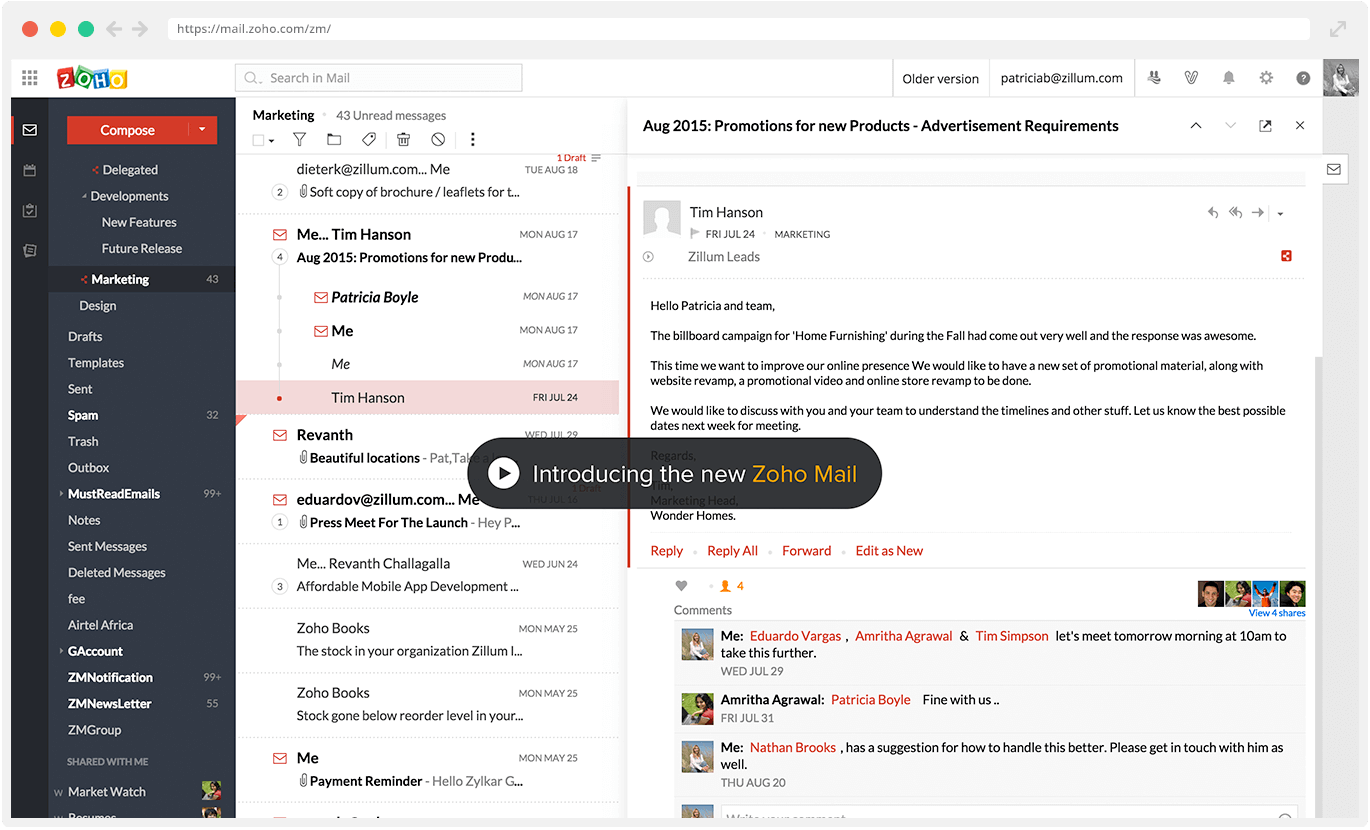 Zoho Mail screenshot.
I had an old Hotmail account that was becoming unbearable to use. With every UI update it got laggier and laggier. I switched to Zoho and haven't looked back.
Like many free email providers, Zoho required an existing email address at signup for validation and recovery purposes. I have always found this annoying. What if I don't plan to continue using that secondary account? What if this my first email account ever? Fortunately, it seems they have since done away with this requirement and instead now ask for a valid phone number, which I view as an improvement.
Since Zoho is one of the smaller providers of free email service, you might actually be able to snag a nice, clean variation of your name with a personal @zoho.com account. So instead of something like michaelgscott6969@yahoo.com, maybe you can find mscott@zoho.com or michaelscott@zoho.com.
Seriously, Dump Yahoo
Yahoo has proven that they don't deserve your business (and yes, you are a customer, as you are using their service in exchange for constantly having ads shoved in your face).
Even if Verizon can clean things up, it is going to take years, and Verizon is known for having a worse privacy track record than Yahoo. Unfortunately this 2015 report from the Electronic Frontier Foundation gives Yahoo high marks, as it was published last year before these revelations came to light.
What are you waiting for? Close your Yahoo account here.
---
As always, you can reach me on Twitter @cschidle.
---
This is an ad-free site. Please consider supporting my writing with one of the support buttons below.